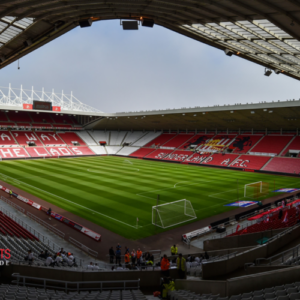 Sunderland AFC have selected General Sports Europe as a consultancy partner to assist with their latest commercial project. General Sports Europe is part of the General Sports Worldwide organisation.  General Sports Worldwide has its Headquarters in Michigan, United States with further US offices in Florida and New York.  The European offices are principally run out of London with further offices in Manchester, Edinburgh, Paris and Lisbon.
The consultancy will see General Sports Europe assist with the creation, and implementation, of a partnership acquisition, service, and retention strategy for the club. The project will be headed on behalf of General Sports Europe by senior executive Ashley Peden, along with Chief Executive Officer, Sam Rush, utilising the resources of the entire General Sports network.
Sam and Ashley previously worked together at Derby County Football Club in the roles of Chief Executive Officer, and Director of Partnerships respectively. Chairman of General Sports Worldwide, Andrew Appleby, has a history of owning and investing in significant sporting enterprises and owned Derby County from 2007-2015.
Sam Rush quoted: "We are very proud to be working with Sunderland AFC on this project and very much understand the scale of the club, it's fanbase, and standing in the local community. We also aim to maximum Sunderland AFC's National and Global reach and we look forward to working with Chief Operating Officer, Steve Davison, and his team at Sunderland AFC to increase its commercial offering."
Steve Davison added: "We have made huge strides as a club under the ownership of Kyril Louis-Dreyfus on and off the pitch.  We recognise the need to continue to make progress at our great club and we believe that Ashley, Sam and the General Sports Worldwide team are very well positioned to offer the necessary expertise and support.  We very much look forward to working with them."